I recently subscribed to a period box and was shocked by how much plastic was involved!
I've been using re-usable femcare products for well over a decade and had started to take it for granted till I bought these "run of the mill" products.
When I opened the box I was immediately hit by a waft of disturbingly sweet perfume. Femcare products shouldn't smell of anything! I don't spray my vagina with perfume every day so why would I want a scented femcare product?! Sadly the innovation and introduction of scents to femcare products back in the 60s helped exacerbate and perhaps create a paranoia that we need it because, frankly, we stink!
Femcare products as we know them didn't exist till the 40s when kotex created the first pad which was cheap enough to warrant throwing it away each month. Before then, women just made their own pads at home from cloth and would wash them each month. It actually took a lot of convincing these women to swap because they felt the ones they made were the highest possible quality.
Fast forward to the present day and you'll find many women think reusing a sanitary pad is, well... un-sanitary.
The fact of the matter is there is nothing harmful about period blood and calling it a sanitary product only implies we are unsanitary without them. All you need to do is wash your pads and they're ready for another day.
On average a woman uses between 11,00-12,000 tampons in her life time (myfreda.com, 2018). That's around £2785 spent on chuckable tampons. But a mooncup costs around £20 and could last a lifetime. Not only are you saving the planet you're saving your monies too!
Freda £8.00 per month
Disposable organic tampons and pads
Our products contain no chemicals, without compromise on protection or comfort - our tampons are made of 100% certified organic cotton and are biodegradable, hypoallergenic and free from chemicals and synthetic fibres commonly found in tampons, whilst our pads contain 100% eco-friendly and renewable materials.

Freda has been created by women for women, and we give back to women as a portion of every Freda purchase is donated to initiatives worldwide tackling period poverty.
Honour your flow pad £7.50(ish)
Reusable pads
Our pads are made from organic cotton top and inner layers, and the wool we use is USA produced GOTS certified organic. We believe natural fabrics are very important, as they make wearing your washable menstrual products cool and comfortable, with none of the unpleasant symptoms that have been associated with disposables. You don't get burning, itching or thrush symptoms during your period when you use natural fabrics. Some women (enough to take notice of) report lighter bleeding and less pain when they use cloth menstrual pads.
Mooncup £19.99
Reusable tampon alternative
Mooncup® is the original, soft, medical-grade silicone menstrual cup designed by women as the convenient, safe and eco-friendly alternative to tampons and pads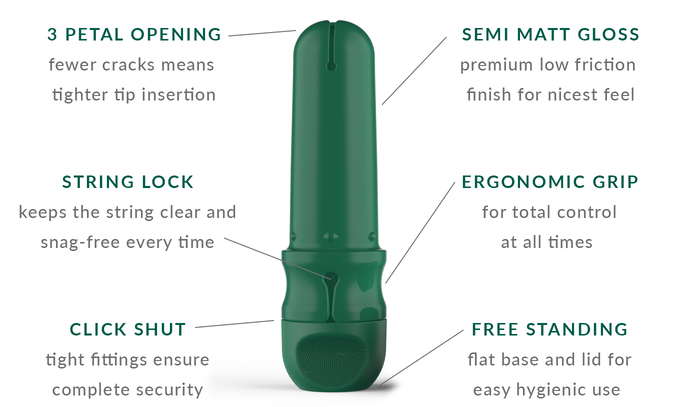 D by DAME £TBC
Reusable tampon applicator looking for investment on kickstarter
D is a reusable tampon applicator. It uses self-cleaning technology so you can enjoy the comfort of an applicator without the plastic waste.
All of these companies are advocates for ending period poverty. I believe the best way to end period poverty isn't in providing disposable femcare products but also in teaching women how to make and care for their own products again. There may be stigma in young girls about using them. But with education we can normalise these products so that it isn't a matter of economic success just one of choice.
Just as we have believed the messages about our body which were implied in femcare adverts of old, we are seeing a new, more positive, message with these eco-period-products. A message of comfort, choice and celebration. Choosing products like these in my attempt to be an eco-warrior as a teen helped open me up to the concepts of cyclical living and the idea that periods didn't have to just be shit. They can be pretty fucking cool too.
References
myfreda.com (2018) About page. https://myfreda.com/why-organic/